Adventure is Knocking.
For nearly 60 years, Cosmos has done something remarkable: Bringing the world to people; and people to the world. By pioneering value touring vacations, we have a long history of turning travel dreams into reality.

We make possible "never thought I would" or "never imagined I could" moments by making travel attainable and easy. And in doing that, we help travelers expand their horizons, clear their heads and open their hearts to the world around them.

Cosmos understands that adventure is waiting for us – all of us – out in the world. And there simply is no better time than the present to discover new sights, new sensations and new experiences. That's why we pride ourselves in turning "what if" moments into "I did" realizations. We're celebrating this ideal and the unparalleled and attainable access we offer our travelers to the globe with value-centric vacations in 67 countries, on six continents.

Let the unexpected begin. Let awe-inspiring take over. Adventure is knocking. As a Cosmos traveler, we know you will answer – as you always have – by finding adventure in the world around you.
Media Inquiries
If you are a member of the media and would like to set-up an interview with one of our executives, require more insight into Cosmos' goings-on or you are interested in experiencing one of our itineraries for a story, please contact Melanie Gravdal at melanie@eda-pr.com.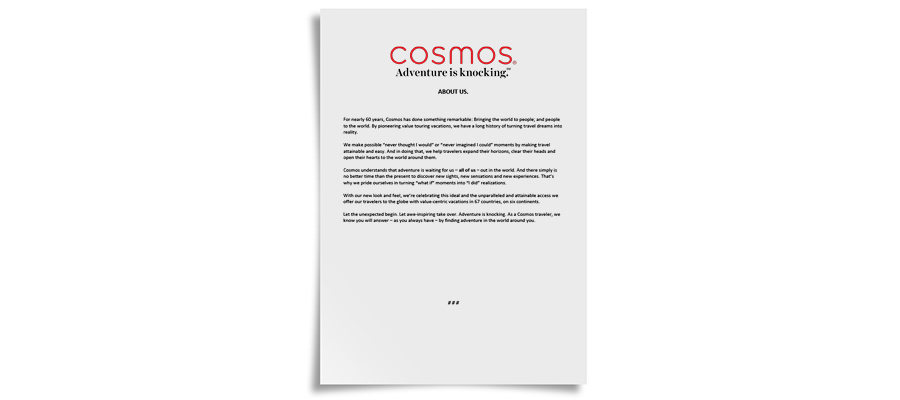 Want to write about us—or the incredible getaways we deliver? We can help! You're one click away to more information.